MUSIC AT BROOKSIDE:
The music and worship ministry at Brookside serves and leads the congregation each week in corporate worship. Using a variety of instruments, we sing songs both old and new to aid us in our praise of God. We strive to choose songs that turn us to God, are theologically rich, and exalt Jesus.
ORCHESTRA
The orchestra is open to all church members who profess Christ and live in accordance with their profession. The orchestra ministers in the morning and evening services each week, as well as playing for special events. Players must demonstrate proficiency on an orchestral instrument and be able to master new material on a weekly basis. Nursery is available as part of our regular schedule. Rehearsals are Sundays, 4:30-5:30 PM.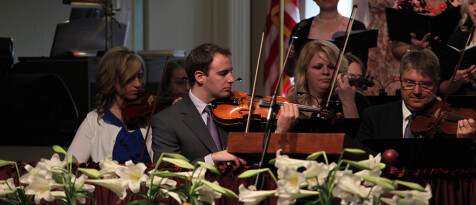 ADULT CHOIR
The adult choir is open to all church members who profess Christ and live in accordance with their profession. The choir ministers weekly in the morning worship services and is involved in other special worship services and events throughout the year, as well as presenting special programs for Christmas and Easter. Members commit on a semester basis. An informal interview is required. Rehearsals are on Sundays from 4:30-5:30pm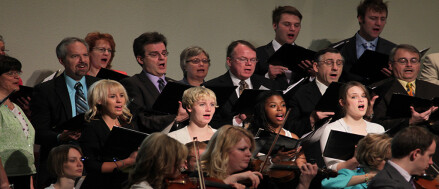 VOCAL ENSEMBLE
The Vocal Ensemble is an auditioned group of singers who also serve in other aspects of the music ministry. Members must demonstrate a high level of musicianship, the ability to read music, and proficiency in independent part-singing. The Ensemble sings throughout each semester during the worship services and at special events. Rehearsals are Wednesday from 6:45-8:00 PM.
CHILDREN'S CHOIR
The Children's Choir is open to students in 1st-5th grade whose parents are regular attenders of Brookside. Students learn doctrine through hymns, music literacy, and principles of good singing. Students minister periodically in the worship services and present one musical per year. Rehearsals are Sunday evenings, 6:00-7:15 PM (during the evening service). For more information, contact Carolyn Kolterman through the church office.
AUDIO-VISUAL MINISTRY
The AV ministry serves a vital role in sending and producing sound and video for weekly services, as well as special events and other needs throughout the church. Team members must demonstrate faithfulness, godly conduct, and a willingness to be taught, as well as a familiarity with technology.